ZipBag- No More Plastic Bags!
Regular price
Sale price
$36.00
---
You don't know it, but you're eating a credit card worth of plastic each week. Stop the pollution and save your money with reusable, plastic-free ZipBags.
They're made with 100% platinum silicone, which means you can use it, reuse it and pass it down to your grandkids. 
Store the usual suspects. Without plastic.
Introducing ZipBag!
The all-in-one container, lunch bag and plastic bag replacement.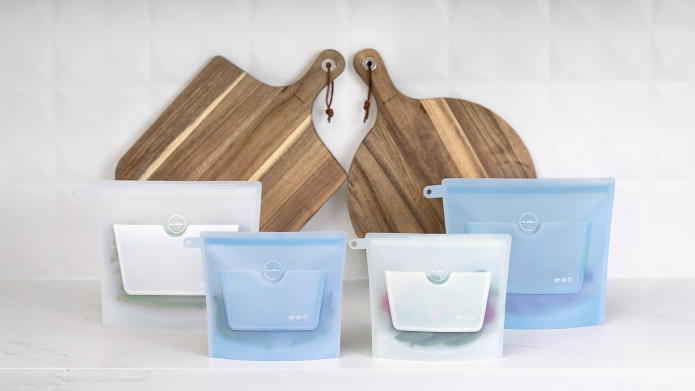 ZipBag® is a patent-pending storage container used for just about anything from keeping your leftovers fresh, to eating your salad lunch out of it. It replaces plastic containers and plastic bags (plus the waste associated) and lets you store more inside your fridge, while keeping it eco-friendly & organized like never before.
HOW IT WORKS
Fill & Seal 
Keep your favorite snacks crisp, store fresh produce or last night's leftovers.
Pack & Go
Pack your salad or sandwich inside - ZipBag is perfect for taking a meal on the go.
Bon Appetit
Go ahead and enjoy that homemade lunch of yours.
Gig in, you deserve it!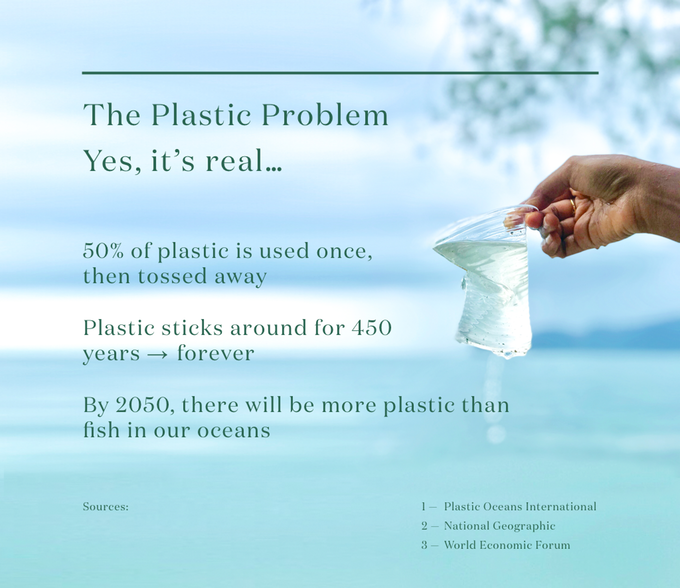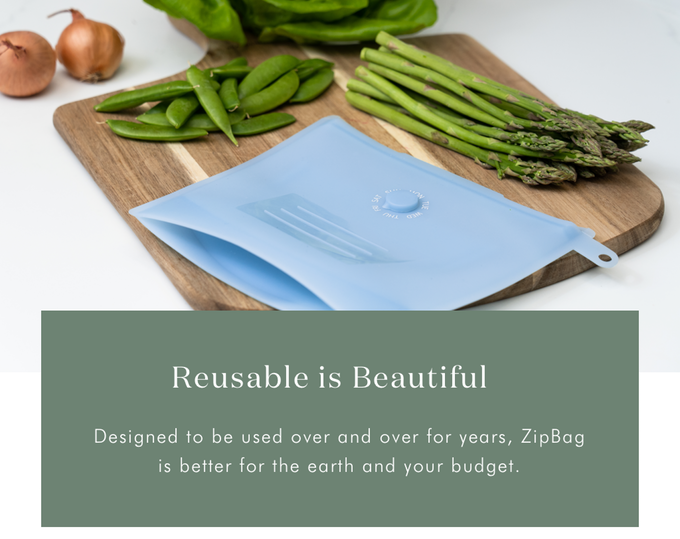 FEATURES & BENEFITS
01- Fresher Longer
With ZipBag's secure zipper closure, food stays fresh just like it should!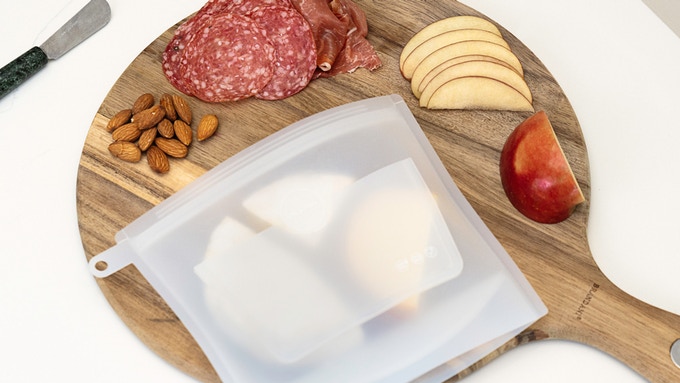 02- Storage Pouch
Snacking on the go? Use the extra pouch to pack our bamboo fiber spork, the custom hot-cold packs, or napkins.
03- Use It Your way
ZipBag is microwave, oven and freezer safe ( heat resistant up to 392℉ / 200℃ )
04- Day-of-the-week Dial
Each ZipBag includes our unique dial that helps keep track of when you put food in the fridge or when it needs to be used by.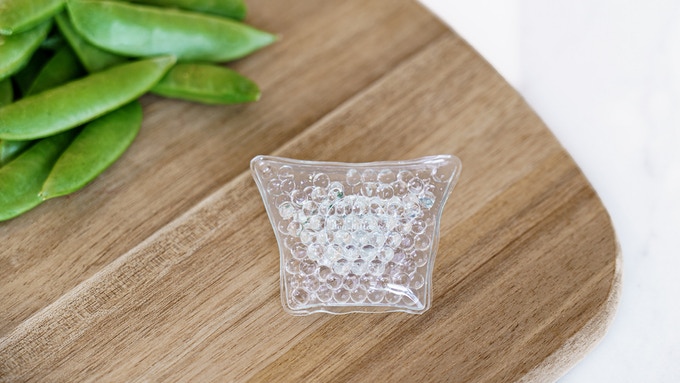 05- Hot+Cold Pack
Designed specifically for ZipBag, our reusable pack keeps food hot or cold when on-the-go. Simply freeze for two hous or heat in the microwave for 20 seconds.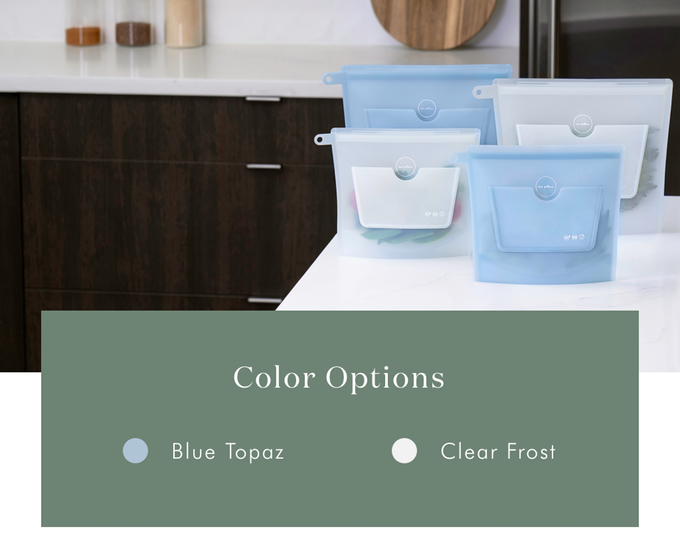 MORE BENEFITS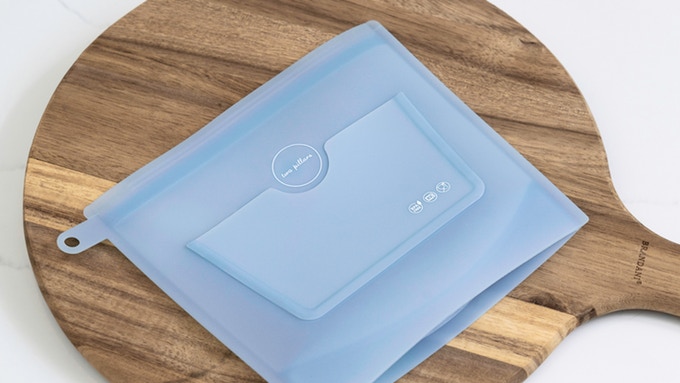 06- Quality Materials
ZipBag is made of 100% food safe platinum silicone that's BPA free and FDA approved.
07- Easy Cleaning
Simply hand wash with warm, soapy water or place in dishwasher top wack for hassle-free cleaning.
08- Contain Your Excitement
There are a bunch of ways ZipBag can be used. Use it to steam fresh veggies in the microwave or to perfectly marinate meat in the fridge for hours.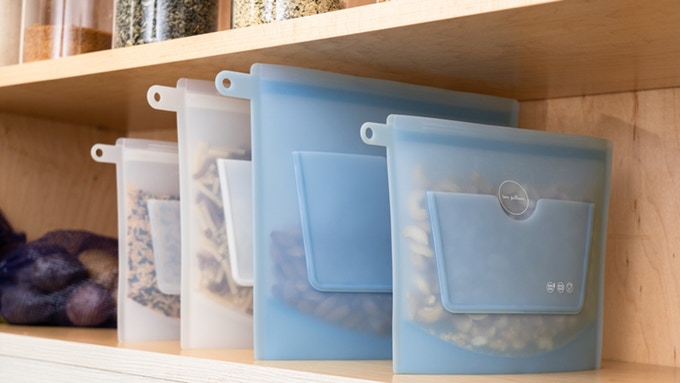 09- Organize It
Your pantry should't be a storage unit, it should be part of your tool kit. Store your culinary weapons in ZipBag so they're at the ready when you need them.
SPECIFICATION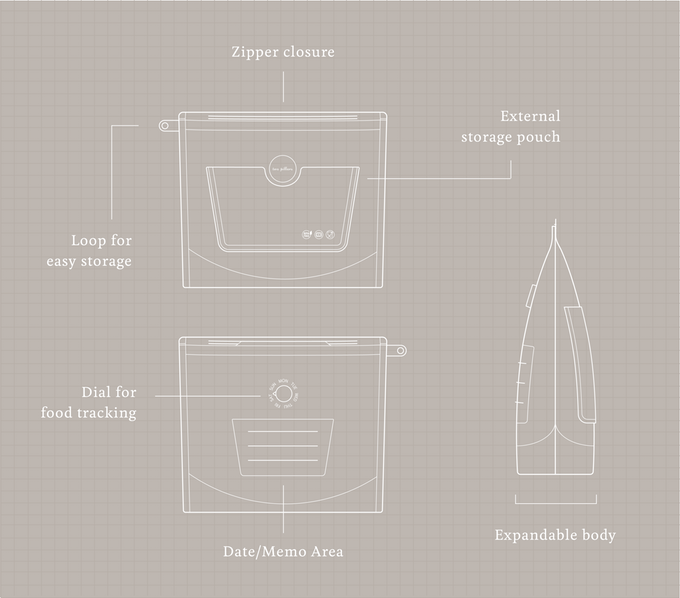 DIMENSIONS
SMALL: Sandwich Size: 8.25 in ( L ) x 7.25 in ( H )
LARGE: Everything Size: 10.25 in 

( L ) x 9 in ( H )
MATERIAL
Platinum silicone
FDA approved
BPA free
Food safe
TEMPERATURE RANGE
OUR STORY